10 Ways to Make a Small Room Appear Larger
I'm sure we've all had the experience when we walk into a space - maybe someone's home or bedroom - and it feels like we're in a cave and the walls are closing in on us. In other places, it feels like you can't move without bumping into something or tipping something over. Maybe it's your space we're talking about; maybe you're beginning to feel like you've outgrown your space - or rather, the space shrunk on you.....
There are a few tricks to help you out here, so breathe easy. If you're moving into a small space and you're not quite sure what to do, this is for you too:
Start from the beginning. The best way to de-clutter is....well....to de-clutter! Start with a blank canvas, take everything out so you have a better idea of what you're working with. Personally, it also helps me think and create better. It's difficult to think clearly in a cluttered space. Besides, once you have everything cleared out, you might be more objective about what you really want back in that space.
Lighten up.
You've probably heard that lighter colors make a space look bigger. It's true. And doesn't have to be a stark white either. I once used a color called French Heirloom by Behr, which looked almost white, with the faintest hint of purplish color. Other 'cool' colors in the cream, blue or green family also work well. Just make sure the color is pastel and a light enough shade. And please paint the ceiling a light color as well!
Coordinate. If you can, have at least one major piece of furniture close in color to that of your walls. It has the effect of almost blending in. You will also want to keep to a simple color palette with clean, crisp lines and little ornamentation. My preference is to go for a monochrome look - different shades of the same color with a dash of an accent color.
Keep things in perspective
Albeit an incredible machine, the eye can always be tricked. You can make the walls of a room appear farther away by painting accents such as moldings or wainscoting in a shade lighter than your walls. Also, the longest line in any room is diagonal (go ahead, try it!), so you can set some of your furniture at an angle to trick the eye into noticing the long lines instead of the short ones. If you have low ceilings you should also consider using lower-profile furniture, so there appears to be more room vertically as well. The closer your furniture is to the ceiling, the lower is appears - aka, small room.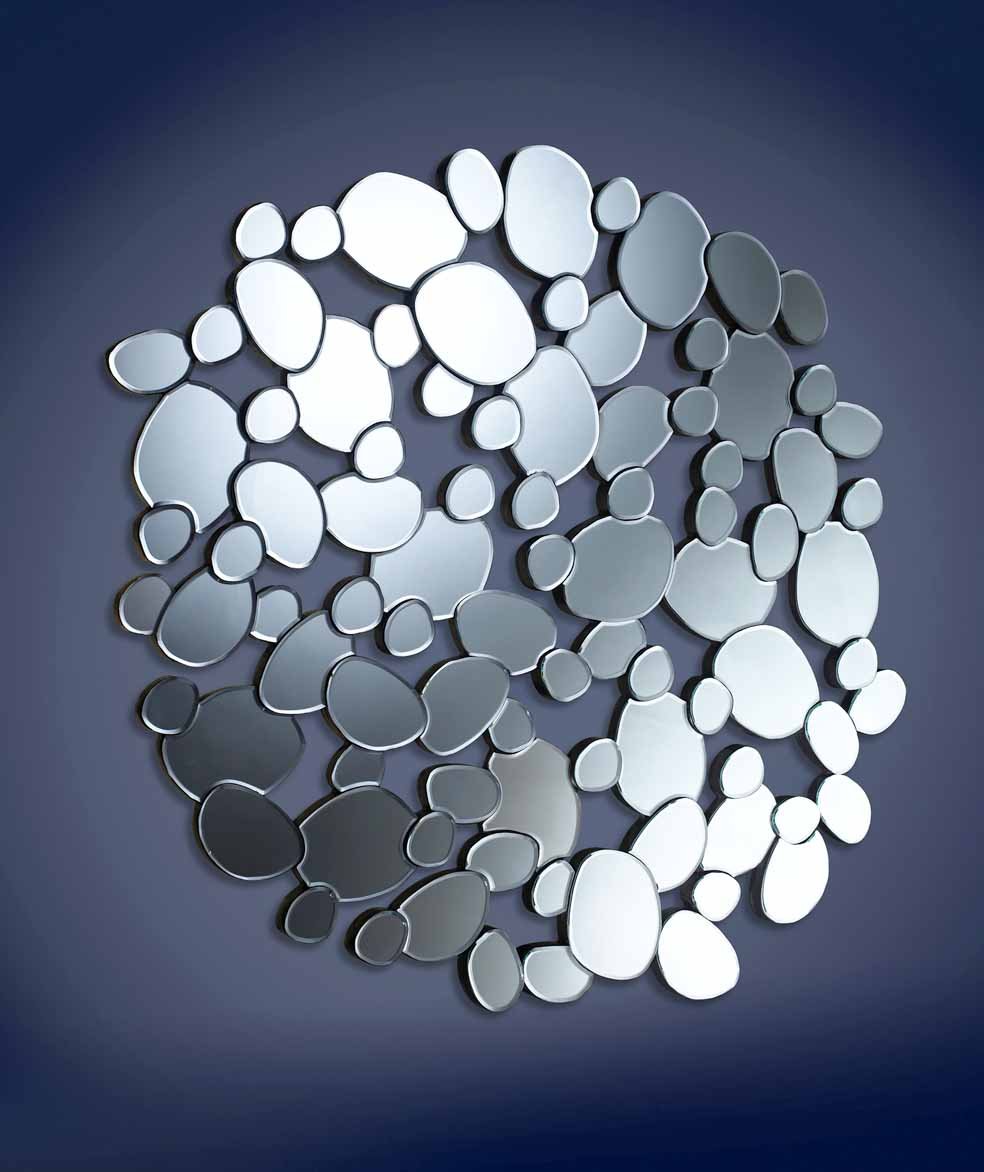 Seeing double?
Mirrors are a great way to create the illusion of a bigger space, so use mirrors on the walls. Mirrors will not only reflect the light, they will reflect the space as well. Hang a mirror perpendicular to a window to reflect the most light. Bigger mirrors will work better than smaller mirrors... You can also use other mirrored elements to create the illusion of space.
See the bottom line
One of the most important factors for the appearance of a larger room is how much floor is visible. The more floor is seen, the bigger the space appears to be. Use furniture with slender legs, furniture that is raised and furniture that is see-through. Glass dining tables, coffee tables or end tables are very useful for this reason. Keep larger furniture items against the wall and keep an area open for traffic flow. There's no need to walk around objects in a large room, is there?
Let there be light.
Lighting is invaluable in mood setting and is just as important in creating spaces. Getting in as much natural light as possible does wonders for a small space. Replace heavy drapes with lighter ones and keep them drawn. If privacy is an issue, use sheer blinds during the day. Recessed lights are great because they seem to disappear into the ceiling and take up so little space. Track lighting is also a good alternative. If that is not possible, get a variety of lamps that need little standing real estate.
KISS
Keep It Simple, Stupid. When it comes to fabric, less is more. Keep the colors plain, and the fabrics light. Of course, do feel free to jazz things up with splashes of color to pull everything together.
arhdecor.com
Mutitask
To avoid cluttering up your space with lots of furniture, find furniture that can pull double- or triple-duty: An ottoman that can be used as seating, storage or as an end table, for example. A set of nested tables will also take up less valuable real estate.
Share the joy
Now that you've redone your space and it feels bigger and cleaner, go on and invite your friends over! Let them see your genius and pay you all the wonderful compliments and you'll feel all warm and fuzzy inside. But that's not the best part: once they leave, you'll truly appreciate how much space you REALLY have now!
Have you done any redesign project you're pretty happy about? I'd like to hear about it! Send me pictures too, if you like. Feel free to send me your questions as well.
Happy redecorating!
The Lifestyle Maven™